Story written by EPelle


Here's a fine gift idea to any student of the sport - whether for an amateur stat keeper, a school boy keeping abreast of his peers at the schools and grass-roots level, or a person truly passionate about the sport.
An
Athletics Weekly
magasine subscription will be a favourite with your family and friends - anyone with an inkling of appreciation for athletics.
Athletics Weekly
was established over 60 years ago, is published each Tuesday, and covers events within the U.K., national and international meetings and championships, and it offers a look into international stars on the rise.
Its journalists are passionate about the sport, and offer incredible insight on the athletes, coaches and management which make up this sport. Their news is fresh, their content is magnificent, and their choice of detailed feature stories makes receiving the magasine ever worth the wait at the post box!
Athletics Weekly
also has a great internet site where fans can read information on upcoming fixtures, and debate and their opinions on domestic and international events among other things.
For subscription information, click
here
.
Track & Field News
, run out of Mountain View, CA, USA, has proclaimed itself the "Bible of the Sport," and is rich in content, features, photos and championship form charts.
Track & Field News
was also established over 60 years ago, and offers excellent performance charts and results from the USA high school through the international professional levels during their peak seasons.
Track & Field News
also provides fans of all interests great coverage of the European Circuit.
Track & Field News
also has a large selection of books and videos for sale through its e-store, and offers subscribers to receive at no additional cost a very comprehensive electronic subscription which typically is e-mailed on Tuesdays.
The electronic subscriptions, known as
eTrack
, offers results, stats and splits for the major invitationals in America and around the world.
Track & Field News
also runs a website which is broken down into four categories by which the moderators adhere. No subscription is necessary to sign up for discussion in one or all of the following categories: Current Events, Historical, Dope Talk (which opened at the height of the BALCO investigation, but is generally closed) and Things Not Track & Field - a hodge-podge discussion forum.
For subscription information, click
here
.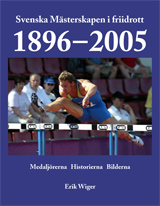 Svenska Mästerskap i friidrotten 1896-2005
is a unique book in Swedish that includes 110 years, 702 championships arrangements and 14.500 Swedish medallists in all events.
Fans interested in the rich tradition Swedish athletics has donated to the world will be interested in the excellent coverage this book provides.
This year's book offers the reader for the first time ever each outdoor medallist presented with name, club and result complemented with text and pictures.
Svenska Mästerskapen i friidrott 1896-2005
also includes the 50 most frequent medallists of all times no matter which event, the 50 most frequent clubs, portraits of all the big names and lots more. The book is 280 pages, contains 227 pictures and is 210x270mm, hard cover.
For order information, click
here
.