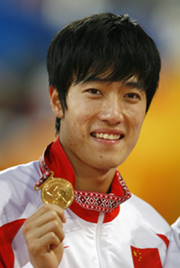 Story written by EPelle


World and Olympic 110m hurdle champion Liu Xiang is happy to be outside of the house.

Ordinarily, news about athletes doing anything else than running or setting records doesn't make the press, but Liu Xiang is no everyday athlete.

China Daily has planted itself in Liu Xiang's every footstep over the past two years following his 2004 Olympic victory in Athens, reporting when world-record holder Liu Xiang has taken drug tests, when he has donated money, every change in his IAAF world ranking, and when he has stepped away from the track for brief appearance in commercial spots for a sponsor.

No stone is left uncovered by Chinese press when they have something fed to them from Liu Xiang's corner.

One practical reason for the information overload may be that Liu Xiang doesn't have much regular contact with the public, and is usually in an enclosed environment or training according to his coach, Sun Haiping.

"As long as we impose proper control, it [public engagements] won't sway him out of form," Haiping said to Xinhua after a charity event in Wuxi last Sunday, when a pair of Liu Xiang's gold-colored track shoes with his autograph fetched the equivalent of $18.750 in an auction for retired athletes insurance.

"It will be his last advertising activity before the 2008 Games," said a track and field official quoted by the Hubei Daily after Liu Xiang signed with Amway for the equivalent of $2.5M.

China Daily states that according to the official, the General Administration of Sports - China's sports administrative body - plans to control Liu Xiang's involvement in advertising by "tap[ping] his commercial value step by step but control[ing] the number of participation[s]."

This entire Liu Xiang hysteria - rightfully termed - is excellent for the Chinese as they look to a national hero to lead them forth to gold in Beijing two summers from now.

China touted Liu Xiang as a medal hopeful in 2004, but the 21-year-old Shanghai native kept to himself, allowing his feet to do the talking. When he won the 2006 IAAF World Athletics Final in a championship record 12,93 - his third-fastest ever, hundreds of Chinese waved flags and cheered wildly at the finish line, a small reflection of what is to come.

However, the control over Liu Xiang seems reminiscent of Rocky IV when Drago spoke of his mission against Balboa.



It is a matter of size. Evolution. Isn't it, gentlemen? Drago is the most perfectly trained athlete ever. This other man has not the size, the strength, the genetics to win. It is physically impossible for this little man to win. Drago is a look at the future!

Though no one has heard those exact ramblings from the Chinese leadership surrounding Liu Xiang, one begins to wonder how much propaganda will be shoveled out as he journeys to win the world championship gold medal which eluded him in Helsinki two years ago, and to set China on fire by attempting to win the gold on his home soil.

As the first-ever male Chinese athlete to win a gold medal in Olympic track and field history, Liu Xiang was given god-like status in a country of one billion inhabitants.

The IAAF reported that as well as his having received lucrative sponsorship contracts which placed him in the top-three in the national earnings list for entertainers and sports celebrities, a school text book, and a short theatrical play have been devised around his life.

Liu Xiang has also taken up a national publicity role fronting a campaign to increase public awareness about environmental protection, and also a civic position as an ambassador to promote his home city of Shanghai.

The athletics world shockingly learned Liu Xiang's name in Athens as the world junior-record holder (13,12 in Lausanne in 2002) equalled Colin Jackson's 12,91 world record time in stealing the gold from his much more experienced counterparts.

Time Asia reported following the Olympics that a Greek television announcer stammered following the surprise win.

"In first place, it's ... it's a Chinese man." Foiled by the X in Liu's given name, the broadcaster sidestepped the problem: "He is Mr. Liu. Congratulations to Mr. Liu from China," the Greek is reported as stating (source).

Liu Xiang may handle the increased propaganda (there are portraits of Liu Xiang plastered in several hundred places in Beijing) as the Olympics draw near. He apparently lives in a box, and has no real outside contact with the surrounding world. His coaches tell him when to rise, and when to set his body in the bed - a curfew to which Liu Xiang has been directly opposed. They tell him which appearances to make, and how much energy to spend at those limited functions.

There is no time bomb ticking inside of Liu Xiang as there was inside of the Russian monster "Drago". The hurdler has a way with people. The fighting machine killed people.

Fans and supporters are what make life for Liu Xiang interesting, and give him joy while he is visible in the public on those rare occasions he is permitted to be seen. The question which arises is whether or not Liu Xiang has more opportunities to race baby kangaroos who have stolen from little children and make Chinese television audiences applaud in the future.

According to Sun, commercials are a good way to promote an athlete away from the field, and Liu Xiang's increasing popularity is in large part due to his participation in such activities.

"But it must be within reason, and not excessive," Sun said.

First things first for the great Chinese hope.

Liu Xiang is an athlete before he is a spokesperson. He has a championship to win and his national ground to protect - two goals which surpass all sums of money, fame and notoriety combined - when the Olympic Games come to his country.

If Liu Xiang is able to make his country proud by winning the 2008 Olympic gold medal, Chinese nationalism will be at a feverish high. More will be requested of the star athlete - interviews, appearances, guest dinners, and so forth. Will his mentors close the door to future earning potential and affection by the Chinese people?

Liu Xiang has made a declaration that he would like to continue competing into his 30s. Surely he can not be shielded and hushed away until after he retires. There will not be enough of Liu Xiang to go around if he is kept behind closed doors the next four to six years.