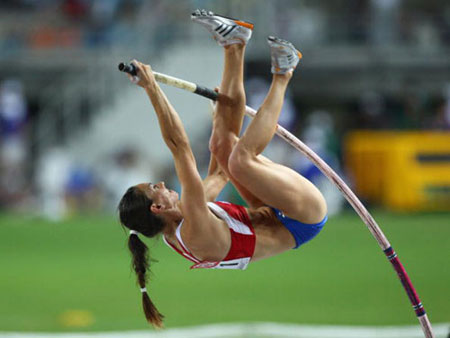 Story written by Eric


In her 2008 debut, Yelena Isinbayeva, 25, raised her own World record indoors to 4.95m today at the Pole Vault Stars meeting in Donetsk, Ukraine, and won a $50.000 bonus for eclipsing the top mark ever achieved indoors.
Isinbayeva, the reigning IAAF World Indoor Champion, added two centimetres to the previous indoor mark she set one year ago at the same venue, and won by 13 centimetres over teammate Yuliya Golubchikova, who finished second with a 4.72m clearance. Poland's Monika Pyrek placed third with a 4.67m vault.
Isinbayeva has now faced Golubchikova 20 times, and has gotten the better of her rival on each of those occasions - the final 13 coming as victories. Pyrek, the 2003 IAAF World Indoor bronze medallist (4.45m), has 11 victories in 63 competitions against Isinbayeva, and has not defeated her since winning the 2006 DN Galan in Stockholm.
This was the third-consecutive year in which Isinbayeva, who has leaped a world record of 5.01m outdoors, broke the indoor mark in Donetsk. Isinbayeva jumped 4.93m in Donetsk last year, and 4.91m in 2006.
Isinbayeva's winning mark today was her 22nd world record in the pole vault and was her first personal-best mark set in 12 months and 17 competitions. She also managed to clear 4.70m or higher for the 53rd time in her career. Isinbayeva had not competed since 2007-October-3 when she vaulted to a firsts-place 4.80m victory in Daegu, Korea.
Isinbayeva, who also is the reigning Olympic, World and European champion, has a 23-finals win-streak and has set world indoor records at least once during the past five seasons. She has been pre-selected to represent Russia at next month's IAAF World Indoor Championships in Valencia, where she will defend the title she won two years ago in Moscow.
Next up for the wealthy Russian is a stop in St. Petersburg on Monday to participate in the 2008 Laureus Awards, where the popular Russian will learn if she has been selected Sportswoman of the Year.
Justine Henin (Belgium, Tennis), Carolina Klüft (Sweden, Athletics), Libby Lenton (Australia, Swimming), Marta (Brazil, Football) and Lorena Ochoa (Mexico, Golf) are the other nominated stars up for the award.

Sergey Bubka, who holds the men's indoor and outdoor pole vault records and put on the meet, was on hand to witness Isinbayeva's record feat. Bubka set the still-standing world indoor mark of 6.15m in Donetsk in 1993. Bubka will also be in attendance Monday at the Laureus award show.

BEKELE BREAKS MENTOR'S 2-MILE RECORD
Birmingham, England -- Kenenisa Bekele, holder of four middle- and long-distance world records, struck again today at the Norwich Union indoor Grand Prix meeting, running two miles in 8 minutes 4.34 seconds, setting his third record at the English indoor venue.
Bekele, who earned a $30.000 bounty for breaking Haile Gebrselassie's indoor mark by a scant 0,34 seconds, was challenged by Paul Koech, the 2007 IAAF World Outdoor steeplechase champion, throughout the final mile until Bekele pulled away on the backstretch of the final lap.
Koech, who has a lifetime best of 7.33,93 outdoors in the 3.000m, ran to a new national Kenyan record of 8.06,48 in finishing second, with Abraham Chebii of Kenya finishing third in a personal-best time of 8.13,28.

Bekele and Koech lined themselves up to make it a 1-2 race following the final rabbit through the 1.600m mark, covered in 4 minutes 0,58 seconds. Bekele then assumed the pacing duties over his stalking challenger at the 2.000m mark, a split which he covered in 5.00,61. Koech appeared to bide his time as he sat back in second when Bekele put in a 59,8-second quarter split to break open the race.
Koech appeared to find a reprieve when Bekele slowed during the next 200m segment and fell off the blistering pace following a 62,9 split leading up to 2.800m, but the Kenyan finally felt the Ethiopian's pace's too much to handle once the pair hit the 3.000m marker in 7.34 -- one second off of Koech's personal best.
Bekele has done particularly well in Birmingham, having run a world record in the 2.000m (4.49,99) last season, and setting the current indoor 5.000m record (12.49,60) there in 2004.

Bekele made a valiant attempt in 2006 to break Gebrselassie's 2-mile world record -- which was also the Ethiopian national record, but fell 0,43 seconds short.
The 2008 indoor season is proving to be a highly competitive one leading up to the Olympic Games, with no less than four world records set within the past six days.
Select results from Birmingham:
Full results


1




Kenenisa BEKELE

ETH
8:04.35








WR




2




Paul KOECH

KEN
8:06.48








NR




3




Abraham CHEBII

KEN
8:13.28








PB




4




Markos GENETI

ETH
8:16.49








SB




5




Bekana DABA

ETH
8:18.92








PB




6




Mo FARAH

GBR
8:20.95








PB




7




Nick MCCORMICK

GBR
8:26.44








PB




8




Erik SJOQVIST

SWE
8:36.74








NR




9




Francisco ESPANA

ESP
8:43.31








PB




10




Adam BOWDEN

GBR
8:47.57








PB









Javier CARRIQUEO

ARG

DNF













Bikila DEMMA

ETH

DNF







Split Times
| | | | | | | |
| --- | --- | --- | --- | --- | --- | --- |
| 1000m | | CARRIQUEO | ARG | | | 2:29.66 |
| 2000m | | BEKELE | ETH | | (2:30.95) | 5:00.61 |
| 3000m | | BEKELE | ETH | | (2:33.99) | 7:34.60 |
| Finish | | BEKELE | ETH | | (29.75) | 8:04.35 |