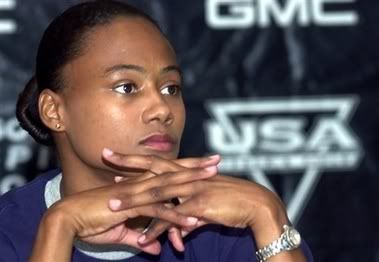 Story by Eric.
(This is the 16th part of a long series titled, "Why You Shouldn't Believe Marion Jones". This series depicts the life and times of a (former) woman sprinter whose lies and cover-ups about doping in sport continue even through this day.)
Marion Jones, the perceived loud-mouthed nitpicker who criticised athletes for not being better role models[1], who, herself, was the biggest farce of one to exist in her sport for young people, and who had used television spots to ask Americans to actually pay attention to – and not just watch – women athletes, has had her career rendered to ashes – with no legal reprieve to continue onward as an Olympian.
You're reading about a woman here, ladies and gentlemen, who, not only accused her peers of not walking along a path as role models, but she also had the nerve to cast the first stone at them as well. Marion Jones had a desire for women to be respected, yet she was oblivious to the perception women had of her following her long string of very poor choices in men, managers and trainers.
What she was also unmindful of was how deeply her strides of lawlessness could discourage black children – and white ones, too – who'd pinned up her photos from magazine articles and dreamed of being Olympians just like Marion Jones, their role model.
One such person was Allyson Felix, the 200m world junior record-holder and three-time gold medallist from the 2007 IAAF World Outdoor Championships in Osaka.
"It was around the year 2000 when Marion was everywhere; she was definitely someone I looked up too. It was personally devastating for me see that it was true and see her go through that. I guess I felt even more responsible to be a role model to younger kids because that was important to me. It would be great if my role model could have been clean and still been my role model."[2]
Judge Karas agreed with the role model status, stating in Marion Jones's sentencing address: "Athletes in society have an elevated status. When there is this widespread level of cheating . . . it sends all the wrong messages to those who follow their every move."
The Los Angeles Times reported on Saturday, 2007-June-23, that Marion Jones at that time was suffering astonishing financial problems associated with her continuous legal battles to clear her from doping allegations in the form of both controversy (Victor Conte) and collection ("A"-sample), and also considerable legal costs from losing a countersuit in a coaching dispute.
And Marion Jones appeared at that time to be leaning toward packing her spikes down in her travel bag for the final time according to The New York Times, though for reasons inconsistent with what you are now reading in this book, insofar as you are aware that she was simply on her last step ahead of disaster in 2006.
Many of her athletics peers, starting with a multiple world record-holder, Olympian and World Champion, wanted her to force open the door to retirement, run on through, and call it a day...a week...a year. However it's sugar-coated, they simply and effortlessly wanted her out in the then-and-now. Marion Jones conceded that retirement was an option, one which she says snuck right up on her, but one which must be viewed as another lie.
Retirement had been sneaking up on her for quite a while, but she didn't make claims of concession two months prior to the "A"-sample leak date, stating the following to The New York Times whilst preparing to compete in the 100m at the 2006 Reebok Grand Prix Track Meet:
"I feel like I still have more to achieve in the sport," Jones said. "I really don't think I'd be able to sleep at night if I left it all behind, that I ran away from a situation that, yeah, has been extremely difficult and perhaps a lot of people wouldn't have endured. But I wasn't going to allow that to happen."[3]
Marion Jones did "allow that to happen", however, having now reluctantly discovered that, despite all of her night watches and guarded entrances, life on the run (no pun intended), has caught up with her and will make it extremely difficult to sleep at night for reasons un-associated with those she mentioned above. Turning the other direction and ignoring the warning signs have permitted a very real presence of shock to riddle holes in her once bulletproof psyche – one which she claims took an inordinate amount of effort to maintain.
She queued up and let the tears stream down her chin whilst making a statement of contrition to reporters outside the Federal courthouse in White Plains, New York following her guilty plea on 2007-October-05, and turned 180-degrees from being the assured, confident – even boastful – defender of her athletics life she'd been on so many numerous occasion.
Her slide down the confidence scale was first noticed at this time when she nearly fouled herself out of the sport for two years with the positive EPO test which she managed to scoot around by delaying the analysis of the "B"-sample test; it wasn't the first time she'd taken the drug.
As a by-product of Marion Jones's leapfrog across continents on a red-eye in August 2006, those keeping score on the Iniquity Jones checklist ticked off the final box prior to the "B"-test exoneration, and the party had already begun. In some circles the revelation of elevated levels of EPO in Marion Jones's system – even if lawyer-talked as having been borderline – was enough to finally have used justice to prove that Marion Jones the eluder finally had left a trace, albeit what seemed to be a questionable one.
As Jean de la Fontaine once stated:
"Car c'est double plaisir de tromper le trompeur" – "It is double pleasure to deceive the deceiver."[4]
Many people felt vindicated that a cheat of her magnitude had finally been snared in her own trap. It appeared high time for what many believed to be an informant who was "in the know" to take his or her long-awaited trip to an exotic island, for scribes to plan on front-row, all-expenses-paid trips to the Pulitzer Prize Award dinner for two, and for Victor Conte to put his dirty feet up on his desk as last man standing in a very bitter and turbulent civil discord with Marion Jones.
The endurance test for those pursuing Marion Jones seemed finished with the revelation she had failed the initial screening for performance-enhancing drugs. Many athletes, coaches, journalists and fans believed the shocked, big, bad wolf had howled in place of speaking like a sheep, and the shepherd, hearing her voice, exposed her for who she was, namely an impostor.
Suntan lotions and shoe polish were to be shelved an additional 13 months following that "B"-sample test – even though Dick Pound stated he'd challenge the Marion Jones "B"-sample results if WADA technicians were dissatisfied with the lab analysis. We never learn if and what Pound's next-step actions would have been, as the review analysis results reviewing the process steps and readings are never revealed to the public.
There were several explanations provided as to why "B"-sample analysis did not support the "A"-sample findings, though those had been known and stated by WADA as being extremely rare instances.
Although at this point in time the sample test procedures may matter little to the public, discussion of those tests one year prior to Marion Jones's admission of having cheated over a given period of time is very relevant to her statement of only using drugs up until 2002. Some here won't concern themselves with whether she was ever foiled by a test result; they've rather simply wanted to know if she ever took drugs, and have gotten the short answer.
If you've been listening, and have allowed yourself to slowly become accustomed to the determinant as to why, by default, Marion Jones should, if anything in this entire drugs scandal, at least have appeared guilty, you've begun to accept that the "Cat on a Hot Tin Roof" is really not a fictional story about a drunk's revelations uncovered, rather a very real, chilling, haunting story of a misguided and elusive woman unable to land back on her feet, and who carried a less-than-inferior place on the public-opinion totem poll. Her anticipated "B"-sample was to be treated as absolutely nothing more than icing on a cake.
"We've said all along that transparency is our best friend."[5]
Perhaps Mr. Nichols didn't realise that folks had seen right through his client – so much that when she responded in the affirmative to having taken drugs, and cried a stream of tears for the special effects, few if any were left listening, because they knew that the "A"-sample test was enough of a demonstration of that lucidity.
With respect to transparency, it also appears as though his client didn't heed the advice provided to her to be as translucent as possible when questioned by Federal investigators, either, having been ensnared by her own lies.
If bad discords, failed marriages, fraudulent boyfriends, IRS inquisitions, drugs processing calendars, refutable – but, plausibly believable – words from suspect people, and shifts from Marion Jones on her own stances toward all of the above, was not enough to raise one's eyebrow or their blood pressure, they'd not know a dingo in a sheep parade if their life depended on it.
Athletes and agents had noticed the extra-large footprints in the stable, with one, below, sounding his personal alarm to the masses:
"Marion is a thief. She basically steals money on the circuit when she is a cheat. It's about time she got caught. For somebody like Lauryn it's very difficult. She is doing it the right way. She is a young, hard-working, clean athlete, a little inconsistent, but that is the way she is. She raises her level at championships but it's disillusioning for her to run against people like Marion."[6]
(Lauryn Williams touched on the subject of Marion Jones's absence from the 2007 USATF Championships, stating: "To me, out of sight, out of mind. Hopefully people aren't wasting time thinking about the negativity of the past").[7]
These had already been hard times for those who, through no fault of their own, demonstrated a faith in what appeared to be a good-natured, single-mother athlete fallen on some misfortune, bad timing and piss-poor luck with men of influence in her life. With the fine hair sheered, however, what remained was a sneaky cat with nine very calculated, purposeful lives – each one with its own genesis, the final one ending with a revelation – now nearing extinction.
It seemed high time following her test failure to answer the question posed by one of the world's largest athletics-based magazines:
America's greatest athlete . . . There has rarely been a sprinter with greater physical gifts, yet adaptability and tough-mindedness key her triumphs. At the height of rending speed, she attains a Zen-like calm. . . . After all she's done already, what's left to say about young Marion Jones? Just this: The best is yet to come.[8]
The best of the worst had seemingly come for Marion Jones in that failed EPO test, but it was a trial date for obstructing justice and lying which were to set her back...permanently and without prejudice.
Insofar as this series is not based upon one specific event, but a multitude of actions and dealings with regard to Marion Jones's lies and cover-ups, what could have appeared at the time to have been a step back in the pursuit of distinguishing, connecting and revealing the falsehoods in Marion Jones's career was not a particularly big bump in the road – especially in the case of the mystery "B"-sample turning the tide on a failed drugs test angle.
The test, itself, would provide an even greater basis of distinguishing whether or not Marion Lois Jones, an athlete, demonstrated character and could be trusted.
One year later, she "proved" that she couldn't – in more ways than she led on, and it proved that she had known more about EPO than she had led on: she had previously taken the drug over a two-year period under BALCO's supervision.
---